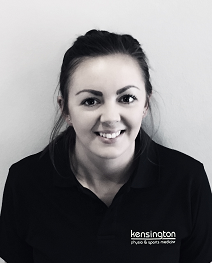 Senior Physiotherapist

Rehabilitation
Sports Injuries
Acupuncture

Kirsten Laurence
Kirsten graduated from the Auckland University of Technology in New Zealand in 2014. Since then she has specialised in Sports, Spinal and Musculoskeletal physiotherapy. She has worked in private physiotherapy clinics both in New Zealand and England, as well for the NHS.
Kirsten is qualified in dry needling and has completed courses in sports kinesiotaping, Oov pilates, and immediate care & sports management. She has extensive experience in myofascial release and manual therapy.
Kirsten has worked within many sports including Football, Netball, Rugby and Badminton.  She has particularly extensive experience working with teenagers and seniors Football teams. Her side-line experience has allowed her to gain experience in treating different mechanisms of injury and advance her skills in managing acute injuries and post-surgery.
Kirsten believes in a holistic approach to rehabilitation and creating individualised patient treatment pathways. She places a strong focus on biomechanics, injury prevention, movement analysis and education.
When Kirsten isn't travelling the UK and Europe she spends her spare time discovering the London food and music scene or watching any kind of sports match.