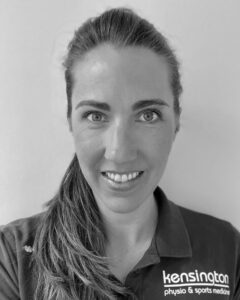 Senior Physiotherapist

Rehabilitation
Acupuncture 
Pilates
Sports Injuries & Massage
Lauren Wolfe
Having graduated in 2006 from Oxford Brookes University with a 1st class honours degree in Physiotherapy, Lauren began her career at Heatherwood and Wexham Park hospitals. She has since worked as a Senior Physiotherapist within the NHS, and also within the private sector for over 16 years.
Possessing a wide range of clinical skills, Lauren is trained in acupuncture and has also trained with the Australian Physiotherapy and Pilates Institute since 2007, where she achieved her matwork instructors qualification. 
Lauren is passionate about treating a variety of conditions, including those of upper and lower limbs as well as spinal injuries. She is particularly interested in sports injuries and post-operative rehabilitation as well as Women's health whereby she is trained through the POGP in treating female urinary incontinence as well as ante-and pre-natal. Over and above this, she is committed to her patients overall health and wellbeing, striving to improve her their quality of life through encouraging healthy lifestyle choices. This is strengthened through her study in Health Coaching with the College of Naturopathic Medicine.
Lauren uses many treatment techniques to ensure optimal benefit for all her patients. Such treatments include acupuncture, soft tissue work, joint manual therapy, taping, electrotherapy, strength and conditioning training. Part of every consultation with Lauren involves the patient being taught about his or her condition, informed about its root cause and empowered to manage it as well as possible.
Keeping fit is very important to Lauren. She has swum competitively in the past and played lacrosse for Kent. She goes to the gym regularly, swims, cycles and of course practices what she preaches with regular Pilates and Yoga. 
Women's Health
We are proud to offer specialist Women's Health services at our Chelsea clinic with Physiotherapist Lauren Wolfe. This is a highly specialised area that requires specific skills and knowledge. Lauren can discuss with you specific issues you my be having and give you the help you have been searching for.
Whether it be the common problem of urinary incontinence with pelvic floor re-education or pregnancy-related problems (ante or post-natal), we will be able to help you by understanding the problem and then with a thorough and careful examination, an individualised treatment plan will be developed with your Physiotherapist. Lauren is also a certified Pilates instructor and will be able to advice on the ideal core exercises to help regain strength and improve function. 
What we treat:
Female urinary incontinence
Pelvic organ prolapse
Ante-natal checks
Post-natal checks
General MOT and advice on return to exercise and sport 
What to expect: 
Your treatment with us will include:
A thorough assessment of your problem. If you are postnatal we can also investigate in detail the impact your pregnancy and labour has had on the pelvic floor and abdominal muscles. For all, if appropriate, this will include an internal examination.
Rehabilitation of all muscles including the pelvic floor and abdominals to help optimise recovery. This will address function, strength and flexibility.

 

A bespoke exercise programme

 

Guidance for return to safe exercise e.g running and resistance such as weight training

 

Communication with your Personal Trainer or anyone else involved in your return to activity or healthcare.
Prices:
New patient initial assessment (60 Minutes) £150
30 Minute follow-up £85
We also offer a Bundle price with an initial assessment and x1 follow-up £220 
Testimonials
" Thank you Lauren!! amazingly skilled Physiotherapist who helped me recover fast! Before visiting Lauren at Evolve South Kensington, I suffered from pain with every step due to hip and knee injuries. Lauren helped me regain my strength and recover fast. She was attentive and extremely helpful in tethering a recovery plan around my aspirations to get back to exercise as soon as was possible. Greatly recommended!"
– Enass Abo-Hamed
" I highly recommend this skilled and friendly young woman. She is thorough, insightful, and dedicated to helping her patients achieve full health."
– Philippa Juul
"Lauren Wolfe is amazing, I'd highly recommend her. She asked very simple yet precise questions and made me feel very relaxed whilst taking care of my neck problem. Super friendly and competent, I'll definitely be going again (hopefully not too soon! haha)"
– Kevin