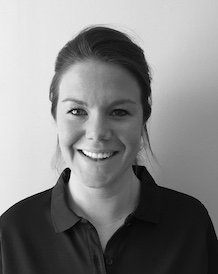 MManipTher, MCSP, HCPC

Sports Injuries
Post operative upper and lower limb
Neck and back pain
Lucy Mitchell
Lucy qualified in 2009 and has successfully gained experience with musculo-skeletal problems; ski injuries, running, upper and lower limb post operative rehabilitation. She worked very closely with an orthopaedic consultant for the past couple years and has rehabilitated clients on a large repertoire of operations.
Lucy is passionate about sports. She now specialises in sport injuries and has worked for various rugby, hockey and netball teams across the UK. Her experience has even enabled her to travel to South Africa and gain pitch side experience. Her enthusiasm and determination to rehabilitate her clients and get her clients back to their sport of choice and educating on injury prevention comes across in a positive way.
Lucy has worked at the London marathon for 7 years. This experience has been invaluable and has extended her knowledge in running injuries.
She enjoys a hands on approach to therapy, complimented by acupuncture and pilates when appropriate. She also has experience in spinal problems where postural correction is important, adjusting muscle imbalances. Lucy enjoys the variation of elite sports injuries to neck and back pain from a sedentary lifestyle.
She is continuously extending her knowledge with courses, she has achieved her acupuncture and pilates qualification.
Lucy loves to play tennis, run and ski in her free time and she also loves to travel and has climbed Kilimanjaro with friends.
Testimonials
"Physio following Torn Knee Cartilege. Lucy Mitchell was recommended to me by a friend, for treatment to strengthen up my knee following problems with torn meniscal cartilage. After I decided not to pursue surgery, we worked on how to strengthen the knee to prevent further injury. First of all, her positive energy was the best tonic! Her can-do attitude was the perfect antidote to the strain of dealing with the knee injury. Aside from that, her depth of knowledge is brilliant and reassuring. Feel as though I'm in very safe hands, and the exercises and guidance have improved my mobility and confidence."
– Pip Wright
"After years of regular knee problems and keen to avoid surgery I sought help from Senior Physio Lucy Mitchell who came highly recommended to me from a friend. Lucy was quick provide a plan for me. Under Lucy's guidance we worked on increasing muscle strength throughout the leg to provide more support for my knee. I was thrilled with the results and now have complete confidence in my knee and can be worry free undertaking activities that were previously a struggle. Aside from the oustanding results it was a pleasure to be treated by Lucy, she is incredibly knowledgable, diligent, professional and has a real positive energy."
– Simon Martin
"Postural Thoracic Back Pain. I was recommended by 2 friends who had previously had physio with Lucy and I am so pleased I went to her. I had started a new job, having had previously no muscular or back problems and within 3 months of being there was in such excrutiating pain that I couldn't sit down and had to work from home. Lucy diagnosed with me postural thoracic back pain and worked her magic – even after the first session I felt like I had got my quality of life back, and could work without constantly thinking about the pain. Lucy gave me exercises to do and I am since fully recovered and whenever I have a glimpse of it returning, I do the recommended exercises and it disappears. In addition to being a fantastic physio, the main thing that I think is often hard to find amongst both physios and doctors. is the warm, cheerful and professional nature Lucy has. As my friends had mentioned before, she automatically puts you at ease even when concerned about a problem and finds a solution almost immediately and for that reason I have since recommended her to colleagues and clients and will continue to do so."
– Matilda Gray