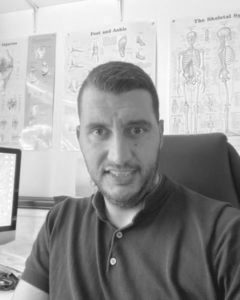 MManipTher, MCSP, HCPC, Managing Director

Consultant Physiotherapist
Professional Sports
Post-Surgery Rehabilitation
Erol Umut
Consultant Physiotherapist and Managing Director
Erol has completed both a Sports Science and a Physiotherapy degree including specific postgraduate clinical skills in musculoskeletal Physiotherapy. Following a period of working within the NHS, Erol has been involved in and managed sports medicine departments in professional football for over 15 years, Both domestically and internationally.
Erol has extensive experience in treating all musculoskeletal conditions with emphasis on 'patient centered' rehabilitation to reduce symptoms and regain functional ability as quickly as possible. He relies on accurate diagnosis and effective manual treatment with specific rehabilitation guidance for all patients ranging from sedentary individuals to elite athletes.
Erol uses a variety of manual skills including spinal treatments, acupuncture, and advanced rehabilitation alongside immediate and long term management of soft tissue  and orthopaedic conditions. He strives to return his patients back to their required functional abilities as quickly as possible with emphasis on preventing a re-occurrence.
Erol's specialist clinical interest includes all sporting injuries, post surgery rehabilitation, low back and groin complaints and paediatric musculoskeletal conditions. He enjoys spending time with his family and participating in a wide range of sports. Erol is known for his positive spirit and leadership attributes and relays this to his team which he feels is an important component in treatment of patients.
Please call Reception for a consultation with Erol as he has limited availability
Testimonials
"Thank You Erol! Following a major ankle injury and 'hobbling' around in a boot and crutches for over 4 weeks, Erol quickly removed my boot and taught me to walk again without any aids in 2 weeks. He quickly called my consultant and presented his reasoning for which the specialist agreed with him. His knowledge, care and application to treatment and advice is better than what I have heard and recommended prior to meeting him. I owe you and Thank you."
– Dom Grainger
"Erol – WOW! I was recommended by a friend to see Erol for my back pain that was stopping me doing everything. It had stopped me going to the gym and I was finding work very difficult. 3 sessions later I am now completely pain free and have returned to the gym. His manual skills and his knowledge are the best I have ever seen. Thank you Erol – I owe you!"
– M Cafiero
"How to be happy after an ACL injury! 🙂 I had a partial rapture of my anterior cruciate ligament, together with a fracture at the upper part of my tibia…not a very good news for someone that was coming out from depression! I spent a month in bed without knowing what to do and looking for a surgeon to build a new ACL for me! But thank God I decided to have some physiotherapy with Erol Umut! He supported me psychologically and helped me to fully recover without any surgery! He is friendly and professional at the same time…a very nice person and an incredible physiotherapist! I'm now back to my normal life and I'm playing tennis regularly again…I still can't believe it! So here I'm: happy again! 🙂 "
– Giuseppe Pedone