A sports massage is an effective treatment to reduce aches, pains, and the ill-effects of injuries, whether from sport or other activities. It is ideal for anyone who is suffering from day-to-day pains and can even be used to reduce the tension and stress of modern day life.
At Kensington Physio, we are a dedicated, professional and compassionate team who listen to each of our clients in order to create the best massage experience.
What is remedial and sports massage?
Remedial and sports massage are scientific therapies that have been developed to use a variety of different massage techniques, together with specific deep tissue approaches to work the body's soft tissues, muscles, tendons, and fascia.
As the massage encourages deep and soft tissue release, it is beneficial for everyone – you do not have to be a sportsperson to see a range of positive outcomes.
Our sports massage services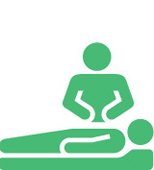 Massage – Sports and Deep Tissue
90 Minutes
 £120
1 Hour
£85
Massages Provided:
DEEP & SOFT TISSUE
SWEDISH
LYMPHATIC DRAINAGE
PREGNANCY
RECOVERY
FULL BODY
MYOFASCIAL
Single massage (30 minutes) – £60
Single massage (1 hour) – £85
Single massage (90 min) – £120
Bundle of 5  – £280 to £500 (depending on length)
Monday-Thursday: 8am-8pm
Friday: 8am-6pm
Saturday: 8am-2pm
Availability: When you call we aim to offer you an appointment as soon as possible in your preferred location. Where possible, we aim to offer same day appointments.
Book now: 020 7603 0040
What can you expect?
Relaxed yet structured sessions that keep you informed of the physiotherapy being done and the beneficial results of the treatment. We also offer expert advice on how you can help your recovery in-between sessions.
At the beginning of each session you are assessed and the treatment is individually tailored accordingly. Each massage session can last from 30 minutes to an hour, depending on the body area being addressed and the initial condition.
All of our team are fully qualified and experienced. You can learn more about them here. To discover more about what to expect from your time with us, please visit our write-up of what happens at your first visit.
Is sports massage right for you?
Sports massages can be booked for a variety of reasons; many sportspeople have them before, after and during competitions and training to maintain their comfort and muscle performance, and even to prevent injuries occurring. It's also ideal for anyone who is feeling sore and tired in certain areas.
If any of the following applies, now may be the right time to try an appointment with us
You work out casually or are an elite sportsperson in training
You work in an office and suffer from stress and tension e.g. neck, back, shoulder pain/aches, migraines
You are experiencing muscle soreness and are feeling tired and stiff
You have a soft tissue injury e.g. sprains, strains
You are recovering post-surgery
If you are still unsure, our team are on hand to talk you through, when you call to make a massage appointment.
What are the benefits?
The main benefit most people consider is that of easing pain and promoting an efficient recovery from muscle damage or fatigue. However, this therapy can also help individuals manage stress and help cultivate a better state of well-being.
Key benefits include:
Stimulating blood flow to remove toxins in the muscles
Calming of the peripheral nervous system to ease pain and discomfort
Toning and relaxing of muscles to improve joint mobility
Improving the health of cells and the repairing of tissues
Easing stiffness and tension
A sports massage is also known to release endorphins which help relieve pain, reduce anxiety, and improve a person's mood.
Our remedial massage services
Remedial massage is practised by a number of our professionals and sits within the specialism of sports therapy. It holistically treats the whole body and traces your discomfort back as far as possible to the original cause, healing both the cause of the disorder as well as the symptoms.
It is composed of specialised techniques aimed to:
Locate and repair tissue damage
To support and speed up the body's own repair mechanisms.
During a massage of this type, our specialists will assess your whole body to find the root cause of your pain across your muscles, tendons, ligaments and connective tissues. Once the source has been found, massage techniques can be used to rehabilitate the pain or injury, wherever it lies on the body.
Remedial massage is applied directly on the skin and can range in intensity, based on your needs and our physiotherapists diagnosis.
Where are we?
We have four locations in London; Russell Gardens, Kensington; Kendrick Mews, South Kensington; Lambton Place, Notting Hill; and LycaHealth, Orpington.
See a pinned map of our locations and don't hesitate to get in touch with any questions you may have.
We look forward to working with you to improve your physical and mental health.
Click here to read about what happened when one client met our sports massage therapist Hus Torgut.