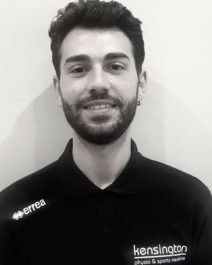 Senior Physiotherapist

Post-op Rehabilitation
Shoulder Complaints
Neck Pain
Sports Injuries
Federico Andreani
Federico completed his BSc Physiotherapy degree at the University of Genova (Italy) and further post graduate training at the Universidad Complutense de Madrid and the Hospital Clínico Universitario San Carlos. Since qualifying, Federico has gained invaluable experience working with back pain patients in a private clinic in Italy and in a private physiotherapy clinic in London. He is a HCPC/CSP registered physiotherapist.
Federico has a holistic approach to meet the needs of his patients, depending on their condition and the treatment needed to get them back to their pre injury health. Federico has a special interest in sports injuries with a focus treating shoulder, back and lower limb post surgery and acute pain.
Federico is very much a manual therapist using a wide range of physiotherapy techniques including a Mulligan's approach to back pain and techniques to reduce neck pain.
Federico enjoys an active lifestyle which includes playing football, bodyweight exercises, running and snowboarding. He is fluent in Italian, Spanish and English