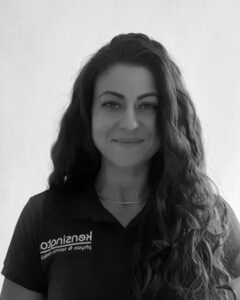 MCSP, HCPC

Dry Needling
Adult and adolescent sports injuries
Neck and lower back pain
Knee injuries
Pilates
Post operative rehabilitaiton

Laura Taurasi
Laura is a fully licensed Chartered Physiotherapist and an active member of the HCPC (Health and Care Professional Council), CSP (Chartered Society of Physiotherapist) and ISCP (Irish Society of Chartered Physiotherapist).
She obtained her BSc Physiotherapy degree at the University of Tor Vergata (Italy).
Laura completed a 2 year course in Manual therapy Maitland concept, in addition to being a qualified Pilates instructor. Laura is also a certified strength and conditioning coach and certified to perform dry needling.
Since qualifying she has gained valuable experience working in Italy and Ireland in the private sector focusing on musculoskeletal injuries.
Her main areas of interest are in sports/musculoskeletal conditions having gained extensive experience in these areas during her time working in a sports injury clinic, she has a particular passion for neck injuries, knees and hip injuries.
Laura prefers a hands on and holistic approach to Physiotherapy, to be able to get patients back into their normal routines and improve their quality of life. Laura is a passionate and driven Physiotherapist with plans to keep growing and developing in the fields of Physiotherapy.
She is committed to CPD and evidence based practice and has completed L4 Strength and Conditioning coach in 2021.
Laura likes to lead an active lifestyle. She enjoys cycling, squash, volleyball and football. She also loves to learn new languages and besides Italian and English she has a great understanding of Spanish.
Testimonials
" Thank you Laura! I do feel much better thank you completely healed ! I'll see how I go if anything feels weird I'll definitely book in again to see you thank you. You helped me so much Laura !"
– Anya
" I recommend Kensington Physio for their professionalism. My physiotherapist was Laura, who was able to find the root of my lower back pain after a careful assessment of my movements. I was surprised by her capability to diagnose the issue, and to simply explain to me where the pain was coming from."
– Christopher M
"I went to Kensington physio due to my neck pain and headache that caused me a lot of discomfort while driving and sleeping. Laura resolved my problem in few sessions and I can finally sleep without discomfort! Thank you!"
– Federica