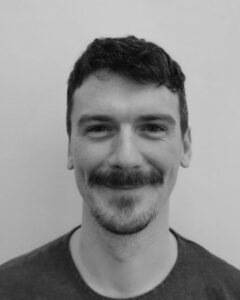 MCSP, HCPC

Persistent Pain
Sports Injuries
Lower Back Pain
Post Operative Care
Whiplash Management
Martin Campbell
Martin has worked within the field of musculoskeletal physiotherapy since graduating from the Robert Gordon University (Aberdeen, Scotland) in 2010. He has worked predominantly within the national health service and private practices, mainly in south west London and Kent.
His main areas of interest are in conditions relating to the neck and back, having gained extensive experience running a spinal clinic within GP practices in Wandsworth dealing with patients with sedentary conditions to overactive lifestyles. Martin also has a passion for sports injuries and working with athletes, particularly relating to the hip and knee though his current part time work with Fulham Football Club.
Martin has completed post graduate courses in Osteopathic Techniques, Explain Pain, Cognitive Behavioural Therapy, among other hands on therapies. He is interested in the biopsychosocial model and how that impacts on people's health and day to day life, especially in relation to Persistent Pain conditions. Martin believes a positive, open rapport is essential for patients to achieve their desired goals.
Away from work, Martin is passionate about most forms of art and music; and enjoys running, yoga and playing football.
Testimonials
" Thank You Martin! My lower back had been giving me pain for years after too much running and cycling. Martin was amazing, after a fairly intensive checkup he was able to diagnose a number of weak muscles which were the root cause of the issue. After giving me a stretching and exercise routine the pain gradually subsided after a few weeks. It's changed my approach to exercise and has allowed me to have uninterrupted sleep once more. I couldn't recommend Martin enough, a true professional who has an innate understanding of his work as a physio."
– Adam Hawkins
" I visited Martin following an ankle injury playing football. Martin examined my stability, not just at the ankle, but at the whole lower body – I have had an ACL reconstruction previously. Martin looks at the whole patient and their lifestyle, not just a small part of the body. In addition, he has also provided breathing exercises to help with my warmups before exercise, as I am asthmatic – these have helped significantly with cardiovascular exercise. I would recommend Martin's services for sports injury recovery."
– Stuart
" I would happily recommend Martin! I saw him for a long term neck problem that started over five years ago which I had just accepted was a 'part of me' and would never get better. It related to an old back injury I did not manage well; I was very stressed, chained at my desk for too long, didn't exercise/sleep well and was having regular headaches – was in a bit of a mess! Martin helped guide me towards a pain free path which involved hands on treatment, a lot of discussion and changing my old habits/beliefs as well as starting a group of exercises that progressed at my pace to get me to where I wanted to be. Martin showed patience (I would lapse with my exercises and overdo it on breaks from work), we had a laugh and also put my faith back in physio after a couple of bad experiences in the past. In the nicest way possible, I hope I don't need him again. Thanks very much!"
– Elaine Finn