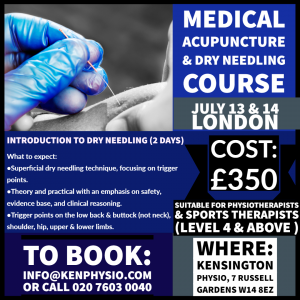 **NEW CPD Course**
⚠️ medical acupuncture & dry needling
⏩ when: July 13 & 14 2019
⏩ where: Kensington Physio, 7 Russell Gardens W14 8EZ
⏩ cost: £350
? to book: register here or call 020 7603 0040
LIMITED AVAILABILITY
The following two tabs change content below.
Kensington Physio & Sports Medicine was founded in 1992 to offer private physiotherapy services to the West London area. We have a well established team of leading, experienced therapists who thrive on patient progress in a supportive team environment....
Read More
Latest posts by Kensington Physio (see all)